In the Media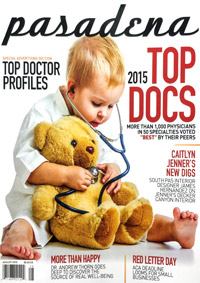 Dr. Perry Jr. voted as one of Pasadena's Top Docs!
When you want to know who the best doctors are int he Pasadena area you ask other doctors. For this, our 8th annual Top Doctors survey, that's exactly what we did. We asked thousands of doctors in and around Pasadena to tell us who among their peers were the best in their respective specialties. We've tallied the results and share them with you here. The physicians in these pages represent the creme de la creme in over 50 specialties as recognized by their peers. Our hat is off to this slate of outstanding doctors, as we honor them for their excellence.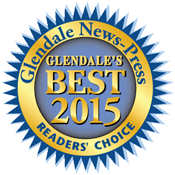 Dr. Perry Jr. voted best plastic surgeon for the 14th time
Dr. Perry Jr. is dedicated to providing patient with the highest–quality service possible. He was awarded as one of
Glendale's Best
for the 14th time! Whether you are interested in a facelift, breast augmentation, tummy tuck or liposuction, Dr. Perry Jr. has the experience and skill to deliver top-notch results. Just check out his
reviews
and hear what his patients have to say.
Who was the recipient of the 2011 Physician of The Year – Mission Award?
Dr. Perry Jr. was honored by Adventist Health on Tuesday, October 18 in Sacramento. He received the Physician of the Year Mission award from White Memorial Medical Center. Dr. Perry Jr. was chosen for his dedication and leadership as the Medical Director of the Cleft Palate Program.
As the Medical Director, Dr. Perry Jr. has the opportunity to utilize his surgical skills to give back to the East LA Community where he received his general surgery training. He states that his greatest rewards for operating on children with cleft lip and palate are when his patients are successful and reach milestones like the 17 year old girl who sent him a copy of her prom picture with a beautiful smile on her face.
White Memorial Cleft Palate Program
The Cleft Palate Program at White Memorial Medical Center is collecting toys for their annual Christmas party to be held on December 10. Last year the party was supported by the White Memorial Medical Center Foundation, Azteca Americana, Coach Art, Jugueton, Clowns Serpentnia and Tates and many others. Almost 400 attended last years' party. Dr. Perry, Jr. is the Medical Director of the Cleft Palate Program at White Memorial Medical Center.
Creating Normal Lives
It's tempting to think that the White Memorial Medical Center Cleft Palate Program's move to a bigger, more up- to-date space in the East Los Angeles Rainbow Children's Center for Healthy Growth would represent a kind of culmi- nation of Medical Director Allan Perry, Jr., MD's nearly 20 years of vital reparative work. But White Memorial President and CEO Beth Zachary practically scoffs.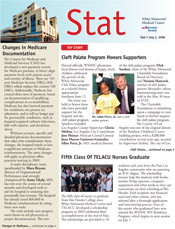 Cleft Palate Program Honors Supporters
Elected officials, WMMC physicians, local donors and dozens of happy, lively children celebrated the growth of the White Memorial Cleft Palate program at a colorful donor appreciation luncheon June 12. The event was held to honor those who have provided support for the hospital and the cleft palate program. Speakers included Los Angeles County Supervisor Gloria Molina; Los Angeles City Councilman Jose Huizar; Mexican Consul General Juan Marcos Gutierrez-Gonzalez;
Allan Perry, Jr . MD
, medical director of the cleft palate program; Dick Sanders , chair of the White Memorial Charitable Foundation Board of Directors; and Neomia Hancock, mother of cleft palate patient Alexander, whose heartwarming story was told in the May 30 issue of STAT.
Dr. Perry Jr. is Active in the Local Community
Dr. Allan Perry, Jr. gave a presentation on facial rejuvenation to the Women's Council at Verdugo Hills Hospital on September 18, 2012. More than 50 people attended and heard his lecture titled "Youth is a Gift, Age is an Art".
He also participated in the Eleventh Annual Foothills Community Business Expo on September 12, 2012, which is brought to the community by the Crescenta Valley, La Canada Flintridge and Montrose-Verdugo City Chambers of Commerce.
California Medical Association Annual Meeting
The Organized Medical Staff Section of the California Medical Association will hold their annual meeting next month in Sacramento. Dr. Perry, Jr. will attend the assembly as the representative from Verdugo Hills Hospital.
The California Medical Association will convene their annual House of Delegates October 13 – 15 in Sacramento. Dr. Perry, Jr. will attend that meeting as one of the delegates from the Los Angeles County Medical Association.